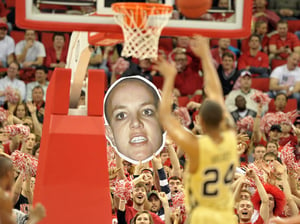 $

25.00
3ft tall.
Production time is usually about three to four days and we can deliver them at games or to on-campus (and proximity) resident housing.
In the interest of transparency: The posterboard we use costs about $10 and the large-format printing costs about $14.50. We affix them together with a 3M industrial-grade spray adhesive called Super 77 that costs about $10 a can but a single can is good for maybe 30 heads. If we were to get nitpicky we might do some math and charge for the per-head spray adesive average but that's just stupid. I'm a design major and I can't do math anyway. Labor (lovingly cutting the heads out to their final shape) and transportation/shipping is all free. So that's how we arrive at our cost of $25 per head.
This makes no sense, we know. But we are more interested in getting lots of giant heads to the games than making any profit whatsoever.
IF YOU'RE INTERESTED IN PURCHASING, SEND US OVER AN EMAIL WITH THE IMAGE YOU WANT ATTACHED (HIGHEST QUALITY POSSIBLE), AND WE'LL WORK WITH YOU TO MAKE SURE YOU GET THE BEST POSSIBLE PRODUCT.